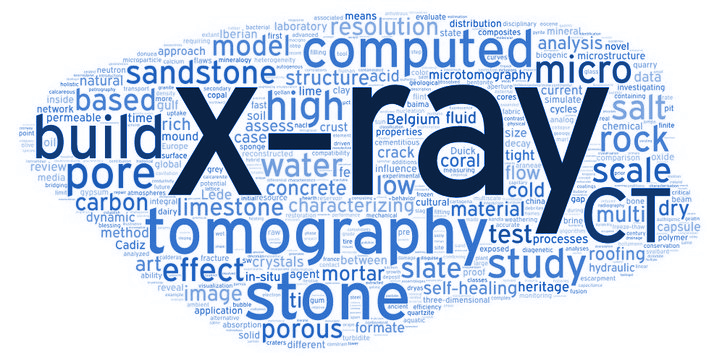 We mainly investigate the chemical, physical and biological processes that influence structural and chemical changes in geomaterials. These processes include the weathering of building stones and concrete, crystallization of ice, salts and mineral phases inside porous media, dissolution of minerals by environmental impact and the behavior of fluids inside porous geological materials.

One of the most important experimental techniques we apply in this context is non-destructive imaging at the micron scale, particularly by X-ray micro-CT.
Building stone research
Building stones are sensitive to weathering and undergo internal changes through a complex interaction of chemical, physical and biological processes. Following a holistic approach, both geomaterials and extrinsic influences are viewed as part of a complex system. Our current research endeavours encompass a variety of projects, including:
The link between nano- micro and macroscale processes inside natural stone
The boundaries of the possibilities of the non-destructive imaging techniques and their improvement
The prediction of the macroscopical behaviour based on microscopical study
Data fusion of the different non-destructive imaging techniques to obtain maximum information
The monitoring of internal changes due to external chemical, biological and/or physical changes
The modelling of fluid flow behaviour inside the porespace of natural building stones
The modelling and monitoring of crystallisation (e.g. of salts) in the pore space of natural building stones.
By data-fusion of non-destructive research techniques, we characterize the (sub)micron scale petrophysical properties of geomaterials and their internal fluid flow behaviour. Since 2005, the PProGRess group has co-operated the Centre for X-Ray Tomography (UGCT) (headed by Prof. L. Van Hoorebeke, Department of Physics and Astronomy, UGent), where "state-of-the-art" X-ray micro/nano-CT scanners have been developed.
---
Research projects
---
Research topics
Two-phase fluid flow in porous materials
Contact
---
Dynamic visualization and quantification of solute transport at pore scale
Contact
---
Monitoring and modeling of frost damage in porous building materials
Contact
---
Advanced material characterization using X-ray grating interferometry
Contact
---
Phase transitions of salts under changing climatic conditions
Contact
---
Salt precipitation in geological subsurfaces during energy storage operation
Contact
Sustainable Multiphysics Multiscale Tools for Building Lime Applications (SUBLime)
Contact
---
BugControl: Towards protecting and improving building stones through microbial-manipulation of pore structure
Contact